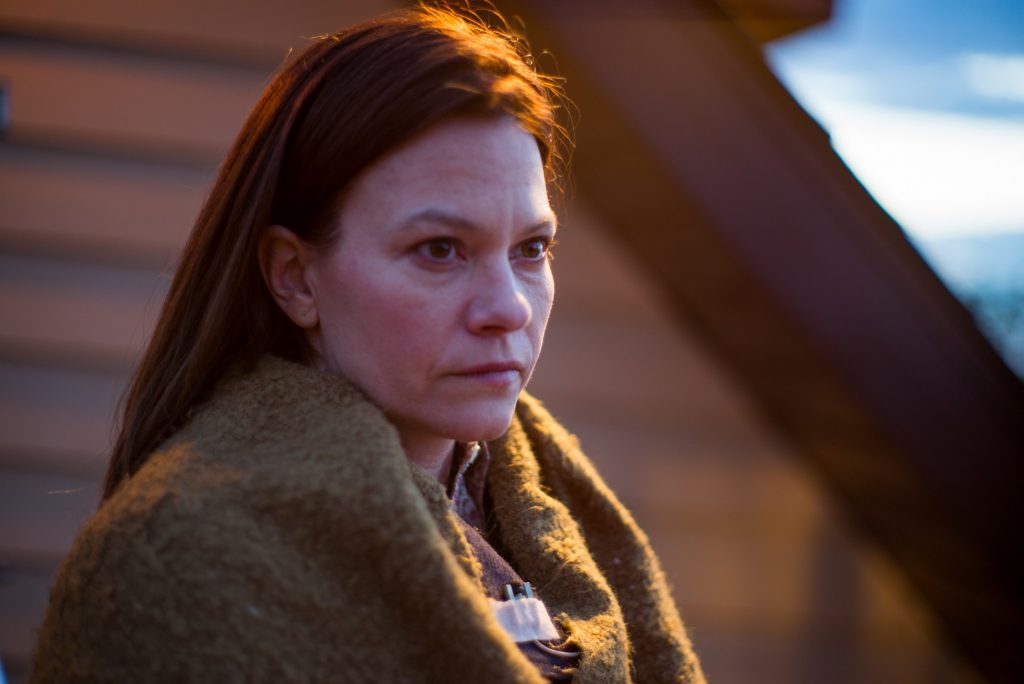 L'AMOUR
WORLD PREMIERE:
wHEN FICTION FOLOWS TRUTH!
Rouyn-Noranda, August 23, 2018 – On Saturday October 27, The Abitibi-Témiscamingue International Film Festival will host the world premiere of the film L'AMOUR, a Quebec production by Film Director Marc Bisaillon, as part of its 37th Opening Night. This feature film is inspired by real events, highlighting current issues that will certainly captivate filmgoers.
Marc Bisaillon was educated in philosophy, Russian studies and Cinema and is also a singer and producer for the underground group Les 3/4 Putains.
Having been inspired by real events, he began writing and directing a thematic trilogy on guilty silence in 2006 which became the feature film: La lâcheté, followed by the second installment, La verité, released in 2011. L'AMOUR, the third in the trilogy, was filmed in the spring of 2017.
Featuring Paul Doucet (La chute de l'empire américain, La Bolduc, Hochelaga, Terre des Âmes), Fanny Mallette (Mensonges, Les sept jours du talion, Hubert et Fanny) and Pierre-Luc Lafontaine (Ma vie avec John F. Donovan, Subito Texto, La galère), the characters in this film have an edginess to them played out in a very tense and human story.
L'AMOUR is a psychological suspense film that relates the story of Alex, an apparently quiet and shy young man in his early twenties who secretly leaves to visit his father in Maine.  Once there, aided with a public registry for sexual offenders, he commits the unthinkable. Meanwhile, Alex's mother and her new husband follow in his footsteps to try and understand what could have pushed him into such murderous madness.
"It's a powerful film based on a gripping story and performed by very talented actors," replied Jacques Matte, Festival President. I am very pleased to present this film at a world premiere, "we are convinced that the audience will be seduced and shaken by the well-crafted plot in this film," he added.
The film was produced by Christine Falco for Les Films Camera Oscura with the financial participation of SODEC, Téléfilm Canada, Harold Greenberg Funds and the SACD. Distribution: Filmoption International.
*****
EN LIBERTÉ!
TRAGICALLY BURLESQUE
French humour will be honoured on Thursday, November 1st, closing night of the Festival, with the North American premiere EN LIBERTÉ, by Film Director Pierre Salvadori.
EN LIBERTÉ! was warmly and unanimously received at the Directors' Fortnight at the Cannes Festival.  "It was a memorable film for its quality and acting, intelligent screenwriting, as well as audience laughter throughout the screening and burst of applause at the end of the film," mentioned Guy Parent, Festival Co-founder and in attendance for the screening on the Croisette. With his sense of humour that transcends cultures and borders he commented, "it's no surprise that the film won top honours at the Fortnight because Film Director Pierre Salvadori managed the mammoth task of pleasing international film critics with an exceptional comedy!"  Parent stated, confident that the film will close the festival with great hilarity.
The film is based on the story of Yvonne, a young police inspector who discovers that her husband, Captain Santi, a fallen local hero, was not the brave and honest cop that she believed in, but rather a complete con artist. Determined to right all the wrongs he committed, she will cross paths with Antoine, who was unjustly imprisoned by Santi for 8 long years. Their encounter leads to a troublesome sequence of wild mishaps for both characters.
Film Director Pierre Salvadori studied cinema and literature at Centre Censier and studied theatre with Jacqueline Chabrier. In 1984, he began as a stand-up actor and  in1989, wrote his first screenplay that was released three years later as a feature film: Cible émouvante. He collaborated with Philippe Martin (Les Films Pelléas) who has produced all his films. Salvadori directed Hors de prix, De vrais mensonges and Dans la cour.
The talented cast includes Adèle Haenel (Les combattants, La fille inconnue and L'Apollonide), Pio Marmai (Le premier jour du reste de ta vie, K.O. and Santa & Cie), Audrey Tautou (Le fabuleux destin d'Amélie Poulain, Le code Da Vinci and L'Écume des jours), Vincent Elbaz (Daddy Cool and Tout là-haut) and Damien Bonnard (Dunkerque and Voir du pays) do honour to this crazy comedy.
The film was produced by Les Films Pelléas and distributed by MK2 | MILE END.
*****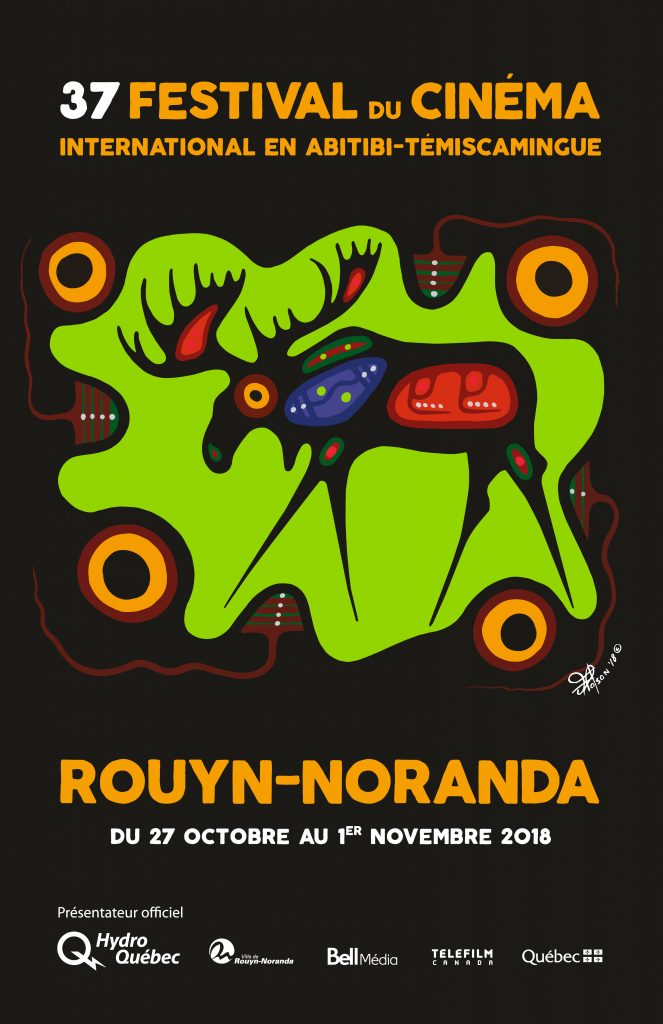 FRANK POLSON
ARTIST CREATOR WHOSE WORK INSPIRED THE POSTER FOR THE 37TH ABITIBI-TÉMISCAMINGUE INTERNATIONAL FILM FESTIVAL
"AUTUMN SEASON"
The Abitibi-Témiscamingue International Film Festival called upon Frank Polson, renowned Anishnabe artist, for the creation of its poster. Frank Polson is an Algonquin artist from the Long Point First Nation Community, in Winneway, Témiscamingue. He has dedicated many years of his life to developing a style that respects tradition while remaining contemporary. His work is well-known and admired in the region and beyond our borders. Polson has just recently begun collaborating with the Royal Canadian Mint on a special collection.
The painting that inspired the poster represents the autumn season, and the moose was the perfect animal to represent this season. "The moose is on everyone's lips in our region in the fall…like the Film Festival!!!!," the artist explained. And according to an Anishnabe Seven Grandfathers legend, "the moose is a symbol of respect (…), earning the respect of ancestors with its ability to feed a whole clan and provide tools and all kinds of useful objects, because all of it was used" stated Polson. Once again, the graphic work for the poster was entrusted to Stéphanie Cloutier, from LEBLEU.
Faithful to this great cervid that has become the Festival's brand image over time, the Festival has worked and will work with energy and passion to live up to the respected reputation of this noble animal.
*****
 ABITIBI-TÉMISCAMINGUE INTERNATIONAL FILM FESTIVAL PARTNERS:
FAITHFUL AND TRUE
The Abitibi-Témiscamingue International Film Festival will soon celebrate 37years of festivity and thousands of films presented to dedicated filmgoers: more than three decades of boldness and innovation that have been rewarded by audience and industry recognition.
This is all due to teamwork. Without the volunteers, collaborators, the team in place and our valued partners who have shared vision and ambitions, the Festival would not be the cultural, tourist and economic player it is today.
Thank you to everyone for your loyalty and passion.
Partners 2018
Presenting Sponsor
Hydro-Québec
Producers
Ville de Rouyn-Noranda
Desjardins
Bell Média
Directors
Télé-Québec
Fonderie Horne, une compagnie Glencore
Télébec
LEBLEU communication humaine
RNC MEDIA
Le Citoyen
Journal de Montréal
Canal D
Radio-Canada
Main actors
Air Canada Jazz
Impression Plus
Deloitte
Quality Inn
Énergie
TVC9
Université du Québec en Abitibi-Témiscamingue
Supporting actors
Projecson
Sleeman
Les Autobus Maheux
L'Indice bohémien
Collaborators
La Dépêche
Cain Lamarre
François Gendron, Député d'Abitibi-Ouest
Théâtre du cuivre
Bibliothèque de Rouyn-Noranda
Bibliothèques et archives national du Québec
Communication Pomerleau
IGA extra Marché Bélanger
Subventionnaires
Téléfilm Canada
Société de développement des entreprises culturelles (SODEC)
Ministère du Tourisme
Ministère de la culture et des communications du Québec
Tourisme Abitibi-Témiscamingue
*****
Packages to attend the Festival will soon be on sale. All the details can be found on our new website: a LEBLEU project.
Passports and tickets for opening and closing nights will be on sale as of September 14th on the Festival website at ticketacces.net and at the Théâtre du cuivre de Rouyn-Noranda.
*****
The full program will be unveiled at the 2nd press conference on October 11 at 4:30pm.
For additional information, visit festivalcinema.ca.
We hope to see you from October 27 to November 1st, 2018 at the 37th Abitibi-Témiscamingue International Film Festival.
-30-
Sources :
Virgil Héroux Laferté
Louis Dallaire
communication@festivalcinema.ca
819-762-6212