OPENING NIGHT
World Premiere: by director Micheline Lanctôt,
UNE MANIÈRE DE VIVRE
« When Good Is Determined by Desire »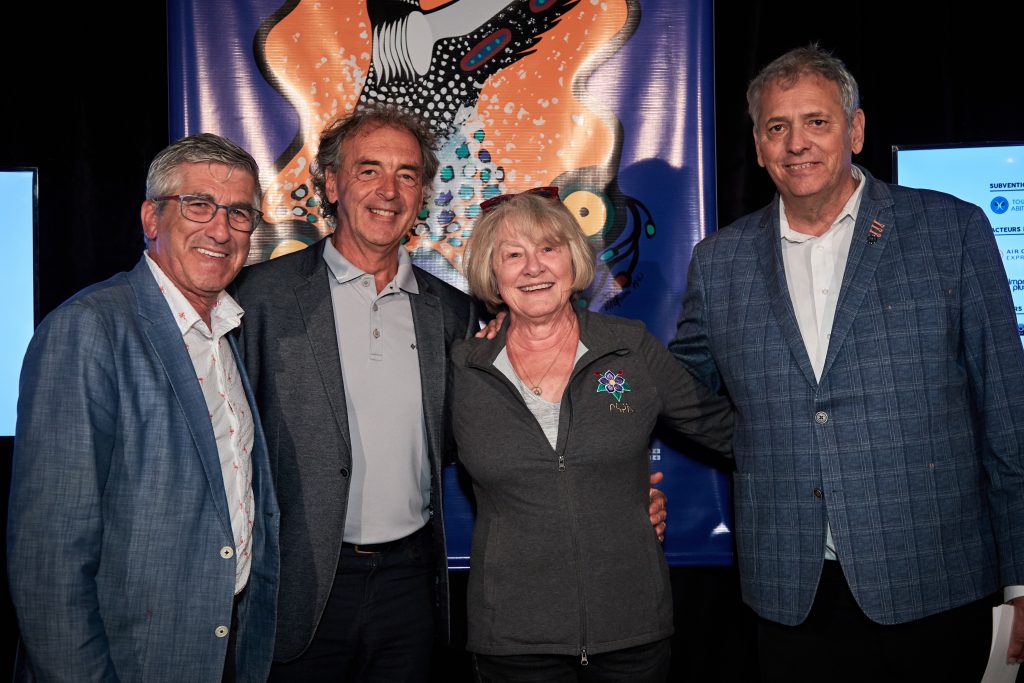 Rouyn-Noranda, August 22, 2019 – On Saturday, October 26, as part of its 38th opening night, the Abitibi-Témiscamingue International Film Festival will host the world premiere of the movie UNE MANIÈRE DE VIVRE, a Quebec production by director Micheline Lanctôt. In this feature film, the characters' desire to change will become real quests.
Director Micheline Lanctôt's professional path began with animated movies. She then embraced a busy career in front of the camera. Her various jobs based on different projects led her from writing to directing. L'homme à tout faire, Sonatine and Pour l'amour de Dieu are good examples. She is well-know for her various TV roles, including Unit 9 and O'.
The cast features Laurent Lucas (Haut les cœurs!, Harry, un ami qui vous veut du bien, Sur la trace d'Igor Rizzi and Contre-enquête), Rose-Marie Perreault (Le monstre, La chute de l'empire américain, Nous sommes Gold, La Bolduc and Les faux tatouages) and Gabrielle Lazure (Passer l'hiver, Un heureux événement and Arbitrage), a group of flawed characters aspiring to establish their own morality.
UNE MANIÈRE DE VIVRE tells the story of Joseph, a Spinoza aficionado who teaches at a university in Belgium. Invited to Montreal to participate in a round table on this philosophical subject, his life is turned upside down after meeting Gabrielle, a bulimic young woman and high-class escort in luxury hotels.
« Micheline Lanctot tells this story in an exceptional way. It is a film about the fate of three characters, all in search for a way of life, who meet at a crossroads», says Jacques Matte, President of the Festival. « We are proud to present the world premiere of this eleventh feature film by Micheline Lanctôt, one of the greatest artists in contemporary Quebec" he concludes.
The film was produced by André Gagnon for Lycaon Pictus with the financial support of SODEC, Telefilm Canada and provincial and federal tax credit programs. Distribution: Maison 4 :3.
*****
CLOSING
North American Premiere
LES PLUS BELLES ANNÉES D'UNE VIE
by Claude Lelouch
« As Long as the Heart Remembers »
On the closing evening of the Festival on Thursday, October 31, there will be the North American premiere of LES PLUS BELLES ANNÉES D'UNE VIE by director Claude Lelouch.
LES PLUS BELLES ANNÉES D'UNE VIE was presented out of competition at Cannes. This film is a sequel to A MAN AND A WOMAN (UN HOMME ET UNE FEMME) 53 years later, where characters meet again and rediscover each other. It tells the story of a man and a woman who shared a wonderful love story during their youth. Decades later, the former racing driver is now lost in the sinuous labyrinth of his memory. His son will locate the one that still inhabits his father's heart and mind, to help him recover his memories. Anne and Jean-Louis will resume their story where they left off.
Director Claude Lelouch dropped out of school to cover stories around the world. After shooting several short films, he set up his own production company Les Films 13.  Un homme et une femme is the movie that launched him not only in France, but also in many other countries. He has directed around fifty feature films.
The cast includes Jean-Louis Trintignant (Happy End, Amour, Z  and  Un homme et une femme), Anouk Aimée (La Dolce Vita, 8 Femmes ½, Lola  and Un homme et une femme), Marianne Denicourt (Guyane, Médecin de campagne  and Hippocrate), Souad Amidou (Un homme et une femme and P'tit Con) and Antoine Sire (Un homme et une femme) in an exceptional romance, crafted by Lelouch's unique touch.
The film was produced by Les Films 13 and distributed by AZ Films.
*****
100% Abitibi production!
World premiere, free screening on Saturday, October 26 in the afternoon
LES CHIENS-LOUPS
by Dominic Leclerc
with Alexandre Castonguay
« Are We Dog or Wolf? «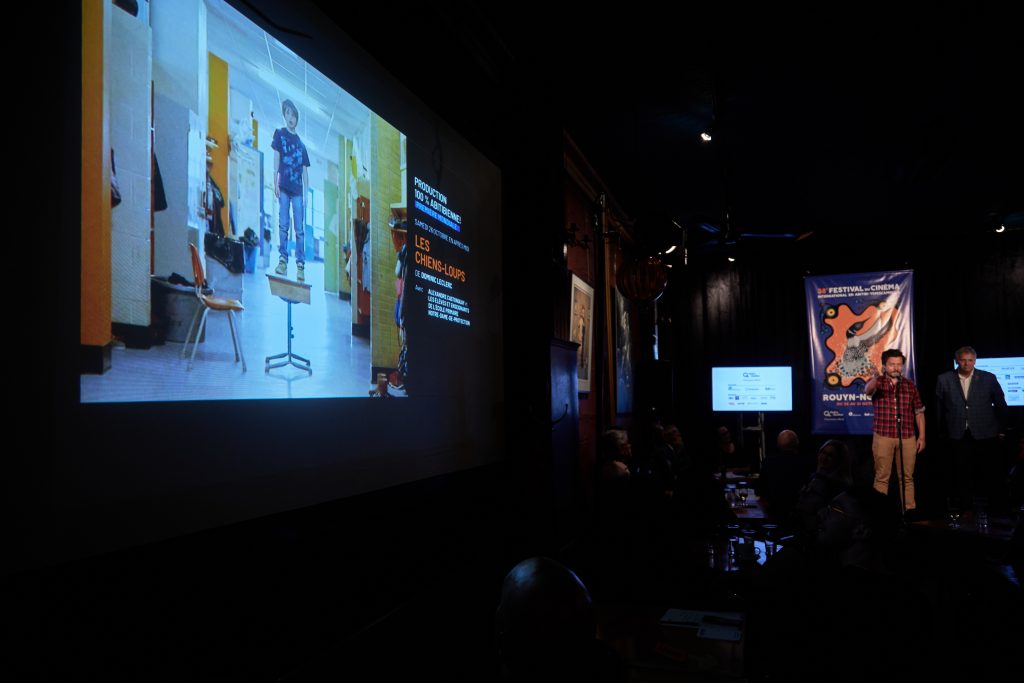 Last year, on Saturday afternoons, the Festival offered the public a free special screening of Sophie Dupuis' CHIEN DE GARDE. Following the great success of the free screening, the Festival is doing it again this year!
So, on Saturday, October 26 at 2 p.m., LES CHIENS-LOUPS, by director Dominic Leclerc, will be presented in World Premiere and it will also be offered in free screening. You can book your seat as of September 13 (via the Festival's regular box office).
LES CHIENS-LOUPS is a documentary film that questions the ambiguity of social hierarchy and the limits of freedom through comedian Alexandre Castonguay's approach. He is working on one of Jean de La Fontaine's fables with the students of a primary school. He epitomizes artistic freedom in a school full of codes, paradigms and rules.
After multiple reports throughout the province of Quebec as part of the Müvmedia contest, director Dominic Leclerc moved to his hometown and signed several digital works (architectural projections, art videos, scenographic projections), as director, director of photography as well as film editor on various projects. He is the writer-director of the exquisite documentary ALEX MARCHE À L'AMOUR, presented at the 32nd Festival in 2013.
Alexandre Castonguay was invited for a six-month artist residency at Notre-Dame-de-Protection Primary School in Rouyn-Noranda as part of the program La culture à l'école. Alexandre Castonguay and Dominic Leclerc soon realized that the workshops were thriving and that this would be a wonderful subject for a documentary. The two projects complemented each other. The fable The Wolf and the Dog (Le loup et le chien) by Jean de La Fontaine brought inspiration and nourishment to the various workshops. Filled with meaning and poetry, children bring their own vision of freedom and social inequality through various reflections. The neighbourhood itself becomes a character in the film as it shows young people from opposite social realities cohabiting in the same school. The film encourages reflection on the presence of an artist at school just like any other professional and the interest it could garner. « This film raises many more questions than it answers, and I believe that this is where its strength lies." explains director Dominic Leclerc.
We hope to welcome you at the premiere of this fresh participatory film, culmination of Alexandre Castonguay's wonderful adventure in collaboration with all participants of Notre-Dame-de-Protection elementary school in Rouyn-Noranda.
*****
BRUNCH-CONFERENCE WITH JEAN-MARC VALLÉE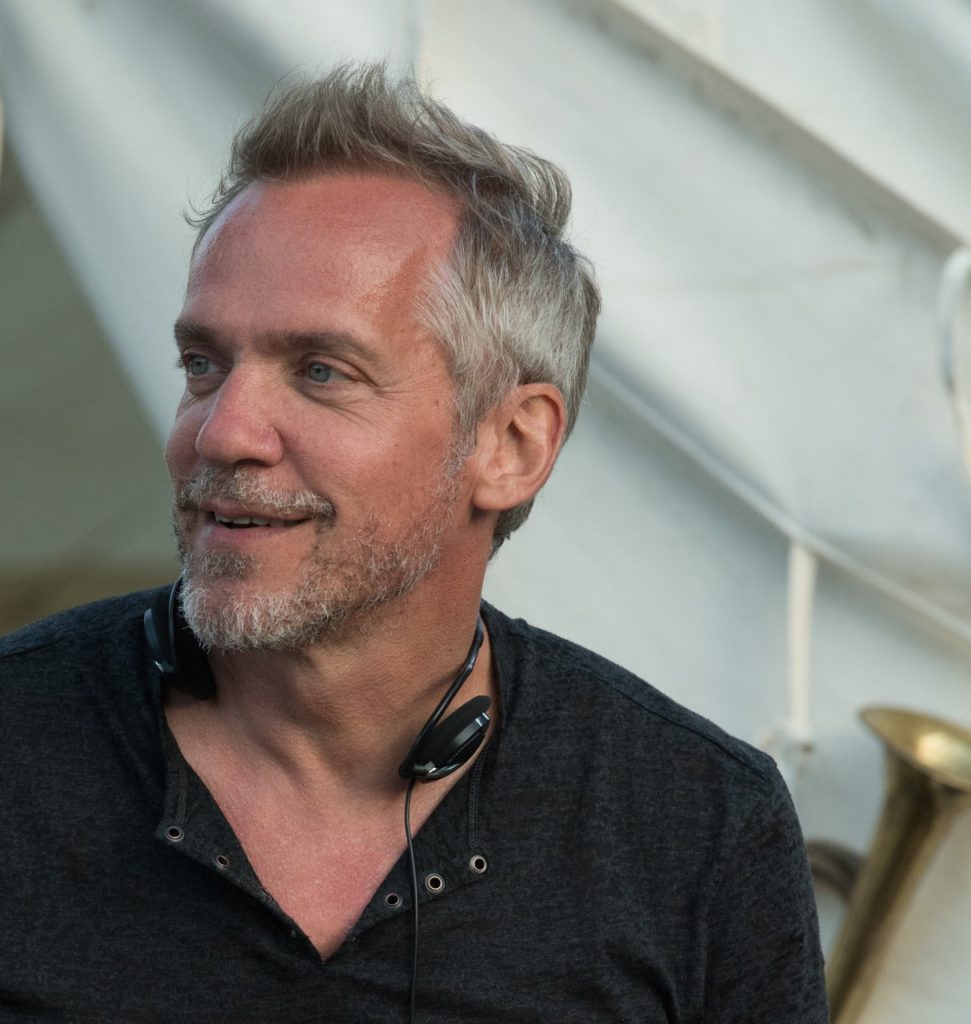 The traditional brunch-conference will be held on Sunday, October 27 at 11 a.m. and will welcome Jean-Marc Vallée, director of C.R.A.Z.Y., Victoria : les jeunes années d'une reine, Café de Flore, Dallas Buyers Club, Wild  and Demolition, who will share his vast professional experiences and his love of cinema. Jean-Marc Vallée is also a TV director with Big Little Lies, winner of four Golden Globes, and Sharp Objects. He is such a generous artist that he will undoubtedly mesmerize his audience.
The conference will be hosted by filmmaker Martin Guérin and will be held at the Rouyn-Noranda Congress Center, at 41, 6e Rue, Rouyn-Noranda, at a cost of $25 including brunch. An event that will be an absolute delight for taste buds and minds alike!
*****
A 2nd collaboration with Frank Polson
Creator of the work behind the poster of the 38th Abitibi-Témiscamingue International Film Festival:
« Loon Mating Call »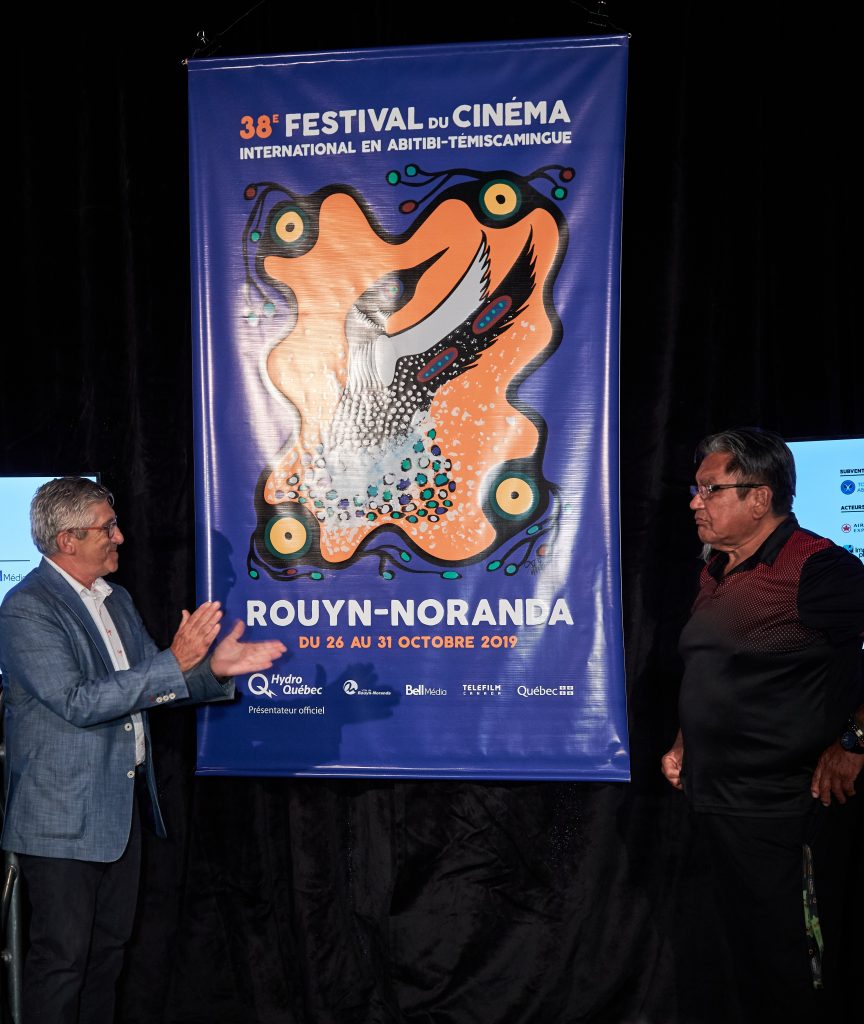 Following the successful partnership with famous Anishinaabe artist Frank Polson, the Abitibi-Témiscamingue International Film Festival is repeating the experience.
Frank Polson is an Algonquin artist from the Long Point First Nation community in Témiscamingue. He has dedicated many years of his life to developing a style that respects tradition while being contemporary. His work is well-known and greatly admired locally and internationally.
« While viewing Frank Polson's productions of the year, the team fell in love with Loon Mating Call, the inspiration behind the poster. The loon, which is portrayed, is another radiant beast in our environment. The energy and momentum depicted in the work represent the Abitibi-Témiscamingue International Film Festival perfectly, always reaching higher, rising up to something bigger. It must be said that Frank is a friend of the Festival" says Louis Dallaire, co-founder of the Festival. Once again this year, the graphic work in the poster was done by Stéphanie Cloutier of LEBLEU.
*****
Financial partners and collaborators  of the Abitibi-Témiscamingue International Film Festival
« Ready to Give Us Wings »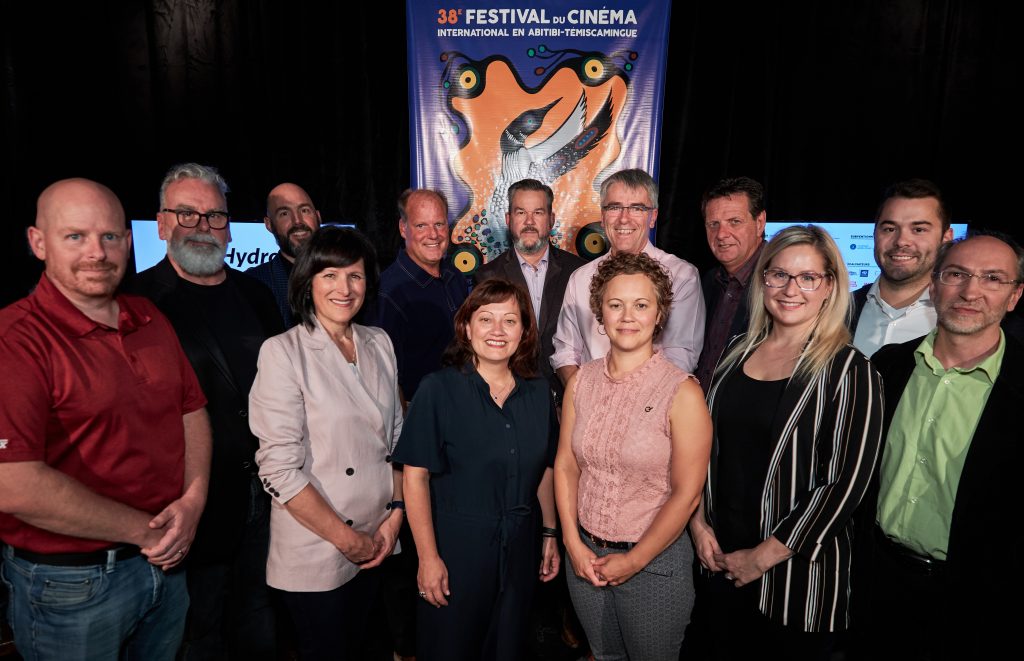 The Abitibi-Témiscamingue International Film Festival will soon celebrate 38 years of festivities and thousands of films made available to faithful and diverse film buffs. It is characterized by nearly four decades of boldness and experiences, rewarded with public recognition and fame within the industry.
« It is thanks to teamwork among the volunteers, the employees, the team in place and our valued partners, united by the same vision that the Festival can feed the ambitions that are today its own. This community has made the Festival the cultural, touristic and economic actor that we know" says Guy Parent, co-founder of the Festival.
I would like to thank all these lovely people for their commitment and passion that give wings to the Festival.
2019 FINANCIAL PARTNERS
Official Presenter
Hydro-Québec
Producing Partners
City of Rouyn-Noranda
Desjardins
Bell Media
Directing Partners
Télé-Québec
Horne Foundry, a Glencore company
Télébec
LEBLEU communication humaine
TVA A-T, a channel of the RNC MEDIA group
Le Citoyen
Journal de Montréal
Cogeco
CBC
Partners – Main Actors
Air Canada Express
Impression Plus
Deloitte
Quality Inn
Énergie
TVC9
Les Autobus Maheux
University of Quebec in Abitibi-Témiscamingue
Partners – Supporting Actors
Projecson
Sleeman
L'Indice bohémien
Collaborators
Théâtre du Cuivre
Rouyn-Noranda Municipal Library
Communication Pomerleau
La Dépêche
Caïn Lamarre
Les Offices jeunesse internationaux du Québec
Ms. Émilise Lessard-Therrien, Member of Parliament for Rouyn-Noranda-Témiscamingue
Ms. Suzanne Blais, Member of Parliament for Abitibi-Ouest
Funding Organizations
Telefilm Canada
Société de développement des entreprises culturelles (SODEC)
Tourism Quebec
Quebec Ministry of Culture and Communications
Canada Summer Jobs
Tourism Abitibi-Témiscamingue
*****
Festival packages will be on sale as of September 5 and you can now view them on our website.
Passports as well as tickets for opening nights, closing nights and free Saturday afternoon will be available as of September 13 on the Festival website, at ticketacces.net and at the Rouyn-Noranda Théâtre du cuivre.
*****
The complete program will be made public at the 2nd press conference on October 10 at 4:30 p.m.
For more details, visit festivalcinema.ca.
Come visit us on October 26 to 31, 2019 for the Abitibi-Témiscamingue 38th International Film Festival and on October 24 and 25, 2019 for the 17th Espace Court.
– 30 –
Sources:
Claudelle Rivard
Louis Dallaire
communication@festivalcinema.ca
819 762-6212