Espace Court
THURSDAY OCTOBER 25 and FRIDAY OCTOBER 26
8pm – $10 per evening / Students $5 per evening
Petit Théâtre du Vieux Noranda
112, 7e rue, Rouyn-Noranda
(16 years and older)
Presented in collaboration with Télé-Québec and Énergie
For 16 years now, this parallel universe at the Festival has featured an eclectic program of short international films, highlighting the work of avant-garde creators and the pioneers of new artistic and social trends. Come and enjoy this happy mix of beer, popcorn and all kinds of short films surrounded in a cabaret atmosphere!
The Télé-Québec Award, which is accompanied by a $1,000 scholarship, will be awarded to the audience's favourite Quebec film in the competition: CATERPILLARPLASTY, by David Barlow-Krelina, FAUVE, by Jérémy Comte, HYPOCONDRIAQUE, by Carnior (Steve Landry), LA COULEUR DE TES LÈVRES, by Annick Blanc, LE BLEU DU CIEL, by Marco Joubert, LE COWBOY DU MONT- LAURIER, by Gabriel Vilandré, LE VER, by Charles Grenier, LUNAR-ORBIT RENDEZVOUS, by Mélanie Charbonneau, MILK, by Santiago Menghini, PAUPIÈRE MAUVE, by Gabrielle Demers and POISSON DE MARS, by Pierre-Marc Drouin and Simon Lamarre-Ledoux.
After the closing night ceremony for the Short Section, there will be a not to be missed Halloween Party! In collaboration with the Festival, AbiTek Sound System will introduces AbiTek The Movie. Dj's and Vj's will make festival goers dance to wildly rhythmic electro music with excerpts of popular films and screenings of the best classics. Admission is $10 and free for Short Section ticket holders.
*****
espace Off
Every year the OFF Section proposes various projects or subjects for sustained exchanges. In this out-of-competition section, the Festival offers you 2 evenings of completely different screenings this year that will help you discover captivating projects and allow you to discuss projects with creators in the field.
TERREUR 404
For Genre, Suspense and Horror Filmgoers!
SUNDAY OCTOBER 28
8pm – 10 $
Petit Théâtre du Vieux Noranda
112, 7e Rue, Rouyn-Noranda
With Film Director Sébastien Diaz
Presented by Radio-Canada, TERREUR 404 is a series of short dramas where our worst nightmares are captured and conveyed using current technologies that we communicate with today. Abitibi-Témiscamingue festival-goers will have the opportunity to view Season 2 at the World Premiere of this
award-winning series.
Directed by Sébastien Diaz (Formule Diaz, Format familial, Voir), the series stars renowned actors like Marc Messier, Guy A. Lepage, Julie Le Breton, Antoine Pilon, Pierre-Luc Funk, Donald Pilon, Vincent Bolduc, Rémi-Pierre Paquin, Pierre-Yves Cardinal and many others.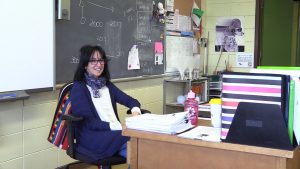 SYLVIE À L'ÉCOLEFor those working in Education, for parents, or for anyone interested in Education and the dedicated and devoted individuals working in the field.
MONDAY OCTOBER 29
7pm – 10 $
Iberville School Auditorium
275, avenue Forbes, Rouyn-Noranda
Attended by Sylvie Giroux and Producer Jacques Turgeon.
Sylvie Giroux teaches a select group of students. For the past 25 years, she has worked passionately and intensely building relationships with these autistic and Down's syndrome youth who must learn to cope with dyspraxia, severe anxiety and intellectual challenges. Surrounded by a respectful, humorous and loving atmosphere, this documentary captures these sometimes serious, sometimes funny moments, where these young people succeed in developing their skills while gaining better self-esteem.
Presented by Canal D. The film conveys the passion and dedication of the teaching staff. Shared moments between school stakeholders, parents and spectators interested in this very real and current situation experienced in all Quebec school boards. The screening of SYLVIE À L'ÉCOLE will be followed by an audience discussion with teacher, Sylvie Giroux.
*****
sectiOn spéciale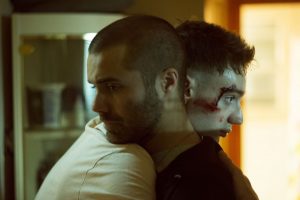 CHIEN DE GARDE :  An Abitibian on Her Way to the Oscars!

SATURDAY OCTOBER 27, 2pm
2pm – Free admission
Théâtre du Cuivre
145, Rue Taschereau O, Rouyn-Noranda
The Festival has created a special place for Val d'or Film Director Sophie Dupuis, an Arts and Letters graduate from Cégep de l'Abitibi- Témiscamingue, as well as her film CHIEN DE GARDE at a special screening on Saturday October 27, 2018 at 2pm. Sophie Dupuis and her team members will be in attendance for the screening.
The film has enjoyed both popular and critical success sine its release and continues to be shown on screens in Quebec and Europe. Following the presentation, you will have the opportunity to speak to the Director and her team during an interview hosted by her former teacher, Martin Guérin.
*****
BRUNCH-CONFERENCE WITH RICARDO TROGI
SUNDAY OCTOBER 28
11am – 25 $ admission includes brunch
Centre de congrès de Rouyn-Noranda
41, 6e Rue, Rouyn-Noranda
The Festival welcomes Ricardo Trogi, famous Director of 1991,1987,1981, Le Mirage, Horloge biologique and Québec-Montréal   who will offer his vision of the trade at the Festival's popular Brunch-Conference presented by Radio-Canada. Award-winning Filmmaker, Ricardo Trogi has an impressive track record. He also directs for television (Les Simone, Les Étoiles filantes, Smash). Ricardo Trogi is an excellent speaker and will surely make you laugh and charm you.
Hosted by Abitibian filmmaker Martin Guérin, the event promises to be as tasty as the delicious brunch!
*****

FAMILY ACTIVITY
NEW: The traditional Ciné-muffin has moved to better adapt to the needs of families!
DIMANCHE 28 OCTOBRE
9am – 5 $ free admission for 2 and under
Petit Théâtre du Vieux Noranda
112, 7e Rue, Rouyn-Noranda
The traditional Ciné-Muffin Family Morning Matinée has moved this year to the Petit Théâtre du Vieux Noranda! Children will have the pleasure of watching animated films sitting on comfortable cushions while eating breakfast, while parents will be able to enjoy a coffee during the presentation! Come in pyjamas (or even Halloween costumes!) and discover the Peruvian culture through the magic of the film PACHAMAMA and meet with Abitibians born in Peru and sample food appetizers from this country.
*****
vOlet jeunesse andré-melançOn
School Screening Matinees
The traditional youth film screenings will stimulate children's imaginations, just as they have for almost three decades. And once again this year, the André-Melançon Youth Morning Screenings Section will be shown on 2 screens. From Monday to Thursday the Théâtre du cuivre and le Petit Théâtre du Vieux Noranda will open their doors to these students who will discover a dozen short films from 8 countries. They will also have the opportunity to meet artists who were featured in these productions, since this year, two films in the program are the work of Directors from Abitibi-Témiscamingue: Christian Beauchemin and Émilie Villeneuve.
Film Workshops
The Festival will again organize high school film workshops and present Les métiers du cinéma with Film Director Sophie Dupuis who will also meet with film students at the Cégep de l'Abitibi-Témiscamingue. This will be an opportunity to discuss her experience and the path she has taken from the end of her college studies to the recent selection of her film CHIEN DE GARDE representing Canada at the Oscars.
Drawing Contest
A colouring contest has been organized for children attending the Rouyn-Noranda School Board, Noranda School, and childcare and daycare centres in Rouyn-Noranda.
Their work will be exhibited from October 16 till November 16 at Promenades du cuivre de Rouyn-Noranda.
*****
SPECIAL FILM STORYTIME
SATURDAY OCTOBER 27
3pm – free admission
Bibliothèque municipale de Rouyn-Noranda 201, avenue Dallaire
Young festival-goers and their families are invited to an hour of special film story-time. Everyone is invited to get dressed up in their Halloween costume for the occasion!
THE FESTIVAL GETS INTO FULL SWING IN THE METROPOLIS!
TUESDAY OCTOBER 23
5pm to 7pm
L'Assommoir, 211, rue Notre-Dame Ouest, Montréal
In order to launch the festivities surrounding the 37th Festival in the Metropolis, L'ASSOMMOIR Restaurant invites you to a Cocktail in honour of the event. While chatting with Festival guests and friends, the public will be able to enjoy recipes promoting regional Abitibi-Témiscamingue products. A glamorous and friendly way to roll out the red carpet for the opening of the Festival!
*****
FESTIVAL ON THE ROAD
The Festival joins forces with various movie theatres in the region to present our opening film, L'AMOUR by Marc Bisaillon.
Val-d'Or

October 28- 1:30pm
Cinéma Capitol
143 avenue Perreault, Val-d'Or
Box Office: 819 874-3207
Ville-Marie
October 31 -7pm
Cinéma du Rift
32 rue Sainte-Anne, Ville-Marie
Box Office: 819 622-1362
ticketacces.net
La Sarre

October 30 – 7pm
Cinéma La Sarre
280 rue Principale, La Sarre
Box Office: 813 333-6666
Amos

October 29 –7:30pm
Cinéma Amos
131 rue Principale Sud, Amos
Box Office : 819 444-6913
ticketacces.net
*****
OTHER UPCOMING ACTIVITIES
OUR PHOTOSHOOT  EXHIBITION
OCTOBER 25 TO DECEMBER 2
MA – Musée d'art
201, avenue Dallaire, Rouyn-Noranda
In collaboration with Éléphant, Quebec cinema restored
The large Our Photoshoot Exhibition first appeared at the Cinémathèque québécoise as part of the Éléphant, mémoire du cinéma québécois10th anniversary. It's a unique opportunity for the public to gain access to movie sets, behind the cameras, and in the company of artisans and Quebec film creators. Directed by Serge Beauchemin, (soundman) and François Gill, (Photo Director), the exhibition highlights different eras, and reflects the technological evolution of Quebec cinema.
THE CONNECTING LINK Exhibition
OCTOBER 5 TO NOVEMBER 5
Bibliothèque municipale de Rouyn-Noranda
201, avenue Dallaire, Rouyn-Noranda
In collaboration with the Rouyn-Noranda Public Library and Théâtre du cuivre
A literary exhibition celebrating the love of words, words that enliven our reading and culminate in great theatrical productions from which prominent films emerge.
WORDS ON THE STAGE
OCTOBER 30 AND 31 AND NOVEMBER 1
1pm
Théâtre du cuivre
145, rue Tashereau Ouest, Rouyn-Noranda
At the beginning of Blocks 7, 9 and 11, regional stage theatre performers will offer lively readings of play excerpts from outstanding literary and film productions.
*****